Antigravity Batteries offers Lithium Chargers by CTEK and OptiMate brands. These are the ones we highly recommend and that we use ourselves. See below for details and help choosing the best charger/maintainer for your Lithium Battery.
The CTEK Brand of chargers is recommended for all of our RE-START (RS) Batteries (models with built-in jump-starting and full BMS protections), as well as our HEAVY DUTY (HD) Batteries (models with full BMS but no restart). This includes ALL of our Automotive Batteries of any size and our newest line of Powersports Batteries with model number suffix "RS" or "HD".
Why CTEK?
The CTEK Brand is recommended for our RE-START BATTERIES because of the Battery Management System (BMS) built into the battery, providing Over-Discharge Protection. If it senses the battery voltage going too low it will go into a "SLEEP MODE" to protect the battery from going dead, protect the battery cells from damage, and allow reserve energy to "re-start" the vehicle. But if for some reason the Battery has gone below 12v then it will need to "SEE" at least 12v from the Charger or it will go back into "SLEEP MODE". The CTEK Chargers start their charging using a higher voltage (12v) and our BMS will stay "OPEN/AWAKE" since it is seeing the charger produce 12v.
The OptiMate Brand of chargers is best recommended for our Batteries without the Re-Start feature or BMS (Battery Management System). For example our SMALL CASE and XPS models, and original OEM sizes. Batteries without RS or HD designation do not have built-in restarting or full BMS. OptiMate is great for other non-protected charger brands also.
Why OptiMate?
Optimate Chargers start off by charging at a lower voltage rate than CTEK Chargers. They gently massage the Lithium battery up to proper voltage starting at a lower voltage range. So this is the best for Lithium Batteries that do not have the full BMS protections, such as our SMALL CASE models, our Original OEM style Batteries, and Extreme Power Series (XPS) Batteries. Optimate is also beneficial for other Lithium Battery Brands without protections, such as Shorai, Braille, and others. This is a very safe and stable, high quality charger.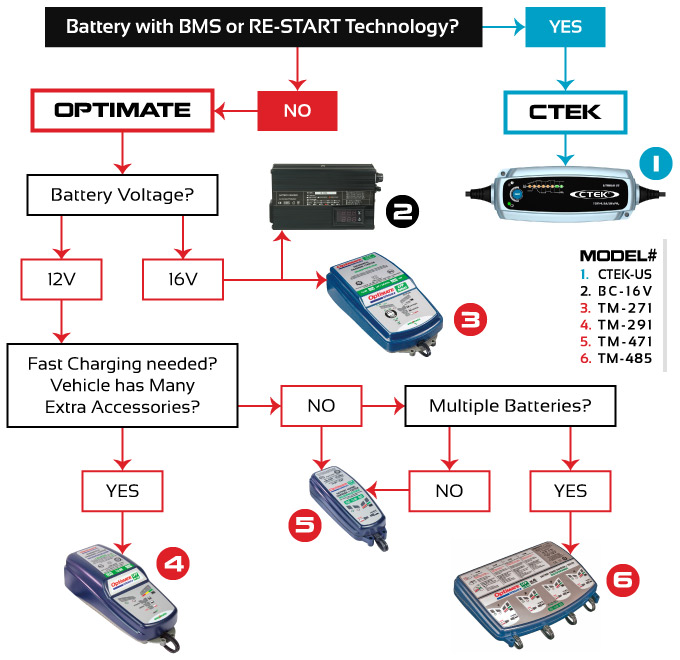 The CTEK Charger is best for our RE-START Battery line and Heavy Duty (HD) models. Offers solid features and easy charging and maintenance with a 4.7 Amp charge rate for fast charging. Offers good maintenance for storage also.
The AG-BC-16V is our Antigravity Batteries brand of 16-Volt charger that works with other brands of 16v Lifepo4 vehicle batteries as well. Reliable with a fast 5A charge rate and multiple protections.
The TM-271 is best used for 16V and 12V Lithium Batteries. This is a very versatile Lithium Charger with an excellent battery recovery system. But often with its 16V option it is best for the Racers who have 16V Batteries also.
The TM-291 is best for all around usage on Non-RS/Non-BMS batteries. Offers up to 5 Amps for faster charging. Offers excellent 9-step recovery of non-protected batteries that have been deeply over-discharged. Best overall charger for Lithium-Ion Batteries without protections such as some models of Antigravity Batteries, Shorai, Braille, Ballistic and other brands.
The TM-471 is best used for Maintenance where faster charging is not necessary. Best for Vehicles without many extra accessories. Best low cost alternative for longer term storage but without having a vehicle with high parasitic draws.
The TM-485 is similar to the TM-471 but has 4 Banks allowing you to charge 4 lithium batteries simultaneously. 0.8A charge rate per bank.