MICRO-START XP-15
Lithium Jump-Starter, Tire Inflator, Portable Power Supply
The ALL NEW MICRO-START XP-15 is your Jump Starter, Personal Power Supply, Tire Inflator and Voltmeter, all in one ultra compact, portable device. It can jump-start Diesels up to 6.7L as well as gas engines, and inflate passenger car and Small Truck tires and pump up other small volume objects. Additionally it can power or charge USB devices with its USB-A Quick-Charge port and a USB-C PD 60W port for ultra fast charging and recharging. Take Portable Power and the ability to Jump Start your vehicles and maintain tire pressure wherever you go. Take us on your next adventure!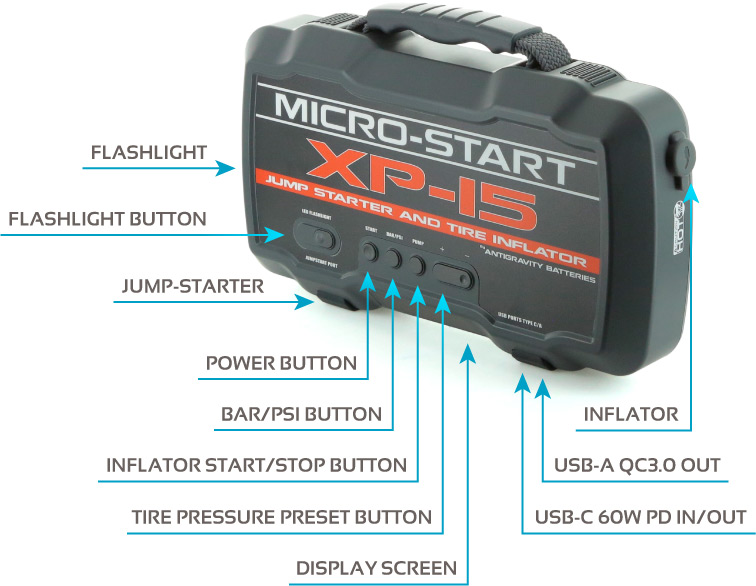 Jump-Start Port (not for charging)
Type-C PD60W Input/Output Port
USB-A (QC3.0) Output
Air Inflator (not for larger off-road truck tires)
LED Flashlight
Flashlight Button
Power Button
Bar/PSI Button
Inflator Start/Stop Button
Tire Pressure Preset Button
Digital Display Screen
Carry Handle
55.5Wh capacity
Carry Bag to hold the XP-15 Accessories
Some of the highlights of the NEW XP-15 are:
The MICRO-START XP-15 has a Digital Display Screen making it easy to see capacity, set tire pressure, read battery voltage, and more.

Displays the level of Capacity (25%, 50%, 75%, 100%).
Displays Input or Output status when recharging XP-15 or charging devices.
Easy-to-read display informs you if ready to Jump Start or if there's an incorrect connection. Displays error code to assist in troubleshooting (refer to user manual).
Shows Voltage reading when ready to Jump Start. Voltmeter function can also be used by itself without jump-starting.
Shows which pressure unit is set (BAR or PSI), pressure value when presetting, and real-time pressure value while inflating tire or other object.
The XP-15 can start all sorts of vehicles from Cars and Trucks to Motorcycles, ATVs/UTVs, Boats and more. Jump-Starting is easier than ever with the Digital Display that confirms correct clamps connection (or shows error codes if something's wrong), vehicle battery voltage, and "START" icon showing it's ready to jump. There is also a Forced Start mode for when the battery is highly over-discharged.
The included Jump-Start Clamps have a durable all copper design. A dust cap is attached to protect the connector tip when not in use. Multiple Safety Protections are built into the XP-15 such as reverse polarity protection and reverse charge protection.

The XP-15 shows the vehicle battery's voltage when ready to jump. But you can also use the Voltmeter function by itself, without performing a jump-start. When you see the flashing START icon, simply press the Power Button to exit Start mode, and the icon light will go out. You are now in measurement mode showing Voltage.
(NOT INTENDED FOR LARGE TRUCK TIRES)
The XP-15 has a built-in Tire Inflator and detachable Air Hose so you can easily maintain tire pressure anywhere you go. Buttons allow you to set the pressure unit to BAR or PSI (up to 80lbs), and the Inflator will automatically shut-off when the pre-set pressure is reached. Manual operation is also available. Status is visible on the Display Screen, along with real-time pressure monitoring while inflating. Various adapter tips are included so you can also pump up small rafts, sports balls and more. Includes Presta Valve Adapter, Nozzle Adapters and Ball Needle.
Inflator Pressure Range: 10~150psi (±2psi sensor accuracy)
Inflator Air Flow Volume: 40L/Min

HIGH SPEED CHARGING and RECHARGING
The XP-15 features super fast and powerful Type-C PD 60w Charging! With PD 60 watts you can quickly charge your Apple or Windows Laptops, Tablets, Phones or other Electronic Devices.
ULTRA FAST RECHARGING of the XP-15: By using a standard PD60w Charger (not included) the XP-15 can RECHARGE in about 1 hour! It can be charged with a USB-C cable (provided) from any USB output such as wall charger, vehicle cig lighter charger, power station, etc.
Two USB Charging Ports for your Electronics!
Type-C PD 60 Watt INPUT/OUTPUT Port
USB-A (QC3.0) OUTPUT Port
300-Lumen LED Flashlight built-in with 3 beam modes (steady, strobe, SOS beacon).
Automatic Power-Off when not in use; or you can turn it off manually.
Built-in Protections for over-charge, over-discharge and more. Long battery life.
Rechargeable Lithium Battery. Use the USB-C port to recharge the XP-15 from any USB output such as your phone charger or wall adapter.
Top Quality Design, build-quality and safety features. UL listed battery cells.
The Micro-Start XP-15 is incredibly simple to use. It comes with a Drawstring Carry Bag for accessories plus all the Accessories you need to Jump-Start your Vehicles, Inflate Tires, and Charge your USB Electronics no matter where you are.
1 Micro-Start XP-15
1 Carry Bag for Accessories
1 set of Jumper Clamps
1 Air Hose + Presta Valve Adaptor, Nozzle Adapters, Ball Needle
1 USB-C to USB-C Cable
1 USB-A to USB-C Cable
1 Instruction Manual