MICRO-START XP-1-G2 (Gen 2)
Lithium Jump-Starter Portable Power Supply
The next generation MICRO-START XP-1 is here! Our XP-1 jump-starter/ personal power supply (PPS) was Winner of the SEMA New Products Award in 2013 – it was the First and ORIGINAL mini jump box and continues to evolve. Now we have raised the bar bigtime with a NEW sleek design, higher jump-starting Power, and great features like a large Digital Display plus the new and super fast PD 30w USB Type-C Charging/Recharging so the XP-1 can power or fast charge all your modern Electronics like Phones, Tablets and Laptops. Take Portable Power and the ability to Jump Start your vehicles wherever you go. Take us on your next adventure!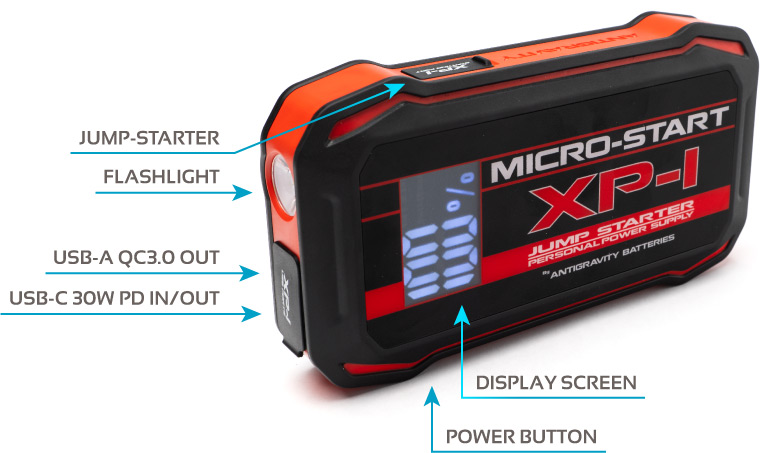 Jump-Start Port (not for charging)
Type-C PD30W Input/Output Port
USB-A (QC3.0) Output
Power Button
Digital Display Screen
LED Flashlight
44.4Wh capacity
Some of the highlights of the NEW XP-1-G2 are: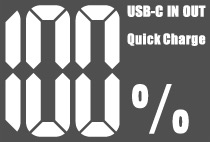 The new MICRO-START XP-1-G2 has a large Digital Display Screen! The original model had capacity lights giving a general indication. Now with the Gen 2 model it's easy to know exactly how much capacity you have with a digital readout.
Displays the State of Charge (percent of capacity available).
Easy-to-read icons to show what ports are active.
The XP-1-G2 is extremely lightweight and compact making it easy to take everywhere. So small it fits in your hand yet so powerful it can jump-start Motorcycles, Powersports Vehicles, even V8 Trucks!
The intelligent Jump-Start Clamps feature multiple Safety Protections built-in. They prevent reverse polarity connection, over-charge, over-discharge, short-circuit and back-charge. Safely start cars, trucks, motorcycles, ATVs, UTVs, snowmobiles, other powersports vehicles, boats and other watercraft.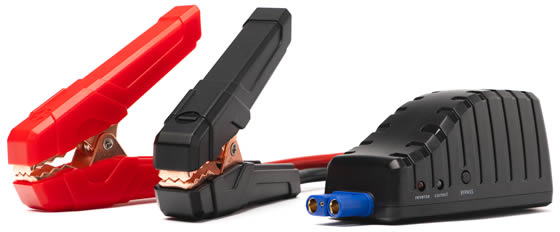 HIGH SPEED CHARGING and RECHARGING
The XP-1-G2 offers USB Type-C PD 30w Charging! With PD 30-watts you can enjoy some of the highest charging speeds available from a jump-starter. Quickly charge your Apple or Windows Laptops, Tablets, Phones or other Electronic Devices. (Check out our XP-20 for the fastest possible 100W charging!)
ULTRA FAST RECHARGING of the XP-1: By using a PD30w Charger the XP-1-G2 can RECHARGE in about 2 hours! This is much faster than the original model. It can recharge using any USB-C cable (one cable included). But for the fastest option you can purchase any USB-C 30-Watt Charger (there are many sources online whether you need one for a 110v Household outlet or your Car's cig lighter port).
Multiple Charging Ports for your Electronics!
USB Type-C PD 30 Watt INPUT/OUTPUT Port
USB-A (QC3.0) OUTPUT Port
LED Flashlight built-in with 3 beam modes (steady, strobe, SOS beacon).
Automatic Power-Off when not in use.
Built-in Protections for over-charge, over-discharge and more. Long battery life.
Rechargeable Lithium Battery. Recharge the XP-1-G2 with the provided USB Cable (or another) from any USB output such as your phone charger, wall adapter or car charger.
Top Quality Design, build-quality and safety features. UL listed battery cells.
The Micro-Start XP-1-G2 is incredibly simple to use. It comes in a durable zippered Carry Case with everything you need to Jump-Start your Vehicles and Charge your Electronics no matter where you are.
1 Micro-Start XP-1-G2
1 Carry Case
1 set of Jumper Clamps
1 USB-A to USB-C Cable
1 Instruction Manual