PS-45 Portable Power Station
Antigravity Batteries is excited to introduce our new Energy Storage series of solar-rechargeable Power Stations and Solar Panels. The ultra compact PS-45 power bank is only 6.3 x 3 x 6 inches and a lightweight 2.86 lbs – easy to take anywhere you need power. It's the perfect companion for traveling, camping, or at home for emergency use or to help with energy conservation. With multiple USB and 12V outputs along with an AC outlet, you can conveniently keep most all your electronic devices charged up, including the MICRO-START and other mini jump-starters. The PS-45 itself can be recharged by simply plugging it into the wall (charger included) or by using compatible solar panels.
Two 12v DC outputs
Two QC USB outputs
AC output
From phones to laptops, the Antigravity PS-45 can charge most all your devices with its variety of power ports. Compatible with Micro-Starts!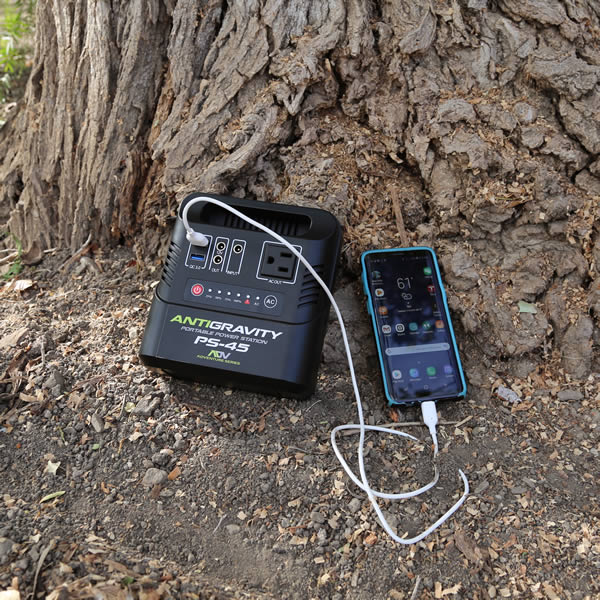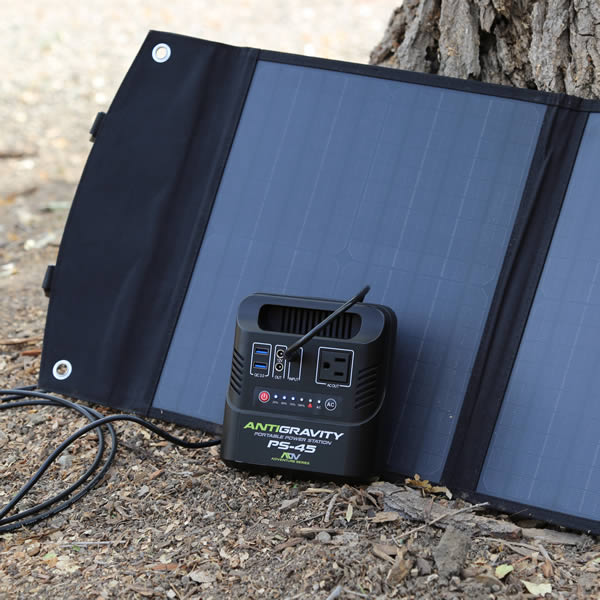 Just plug it into the wall.
Recharge from the sun!
The PS-45 power station is easily recharged by wall outlet (cable included) or by using a compatible solar panel. (Antigravity Solar Panels coming soon!)
LxWxH: only 6.3 x 3 x 6 inches
Weight: only 2.86 lbs
Tiny footprint, big power! With 45,000mAh, the PS-45 is the most compact power station available with this much capacity. Easy to take anywhere you need power.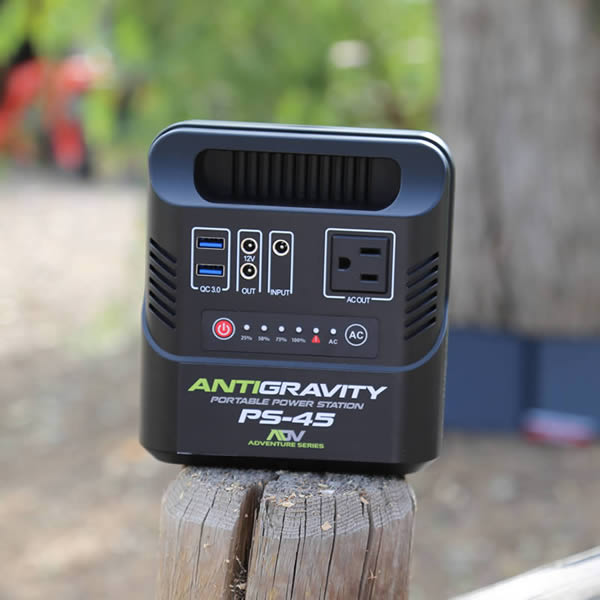 Battery Capacity: 45000mAh(3.7V) 166 Wh
USB Outputs: Dual USB (QC3.0 support) 5V\9v 2.1A
DC Outputs: DC1 + DC2 9~12.5V/10A (Max) 5.5mm
AC Output: 100-110V/60Hz
AC Power: continuous output power 100W; peak power 200W (2 second max)
Lighting Time: 166 Hours of Lighting, 1W on-board LED
Battery Indicator: 4 LED display (25%-100%)
Wall Charging: DC 5.5mm tip @ 15V/2A (6-8 hours charging time)
Solar Charging: DC 5.5mm tip @ 18V (optional; solar panel not included)
Battery Management System (BMS): overload, overvoltage, overcharge, overcurrent, overpower, short-circuit Protections