MICRO-START XP-3
Lithium Jump-Starter Portable Power Supply
The Antigravity Batteries Micro-Start XP-3 jump-starter/ personal power supply (PPS) is one of the most compact lithium-ion Jump-Starter packs. So small it fits in your hand and easily stows in your saddlebag, making it easy to take back-up power anywhere you go. Never worry about coming back to a dead car battery, or USB devices running low on power. The XP-3 solves it all. It can be conveniently recharged itself via Micro-USB tip. Take us on your next adventure!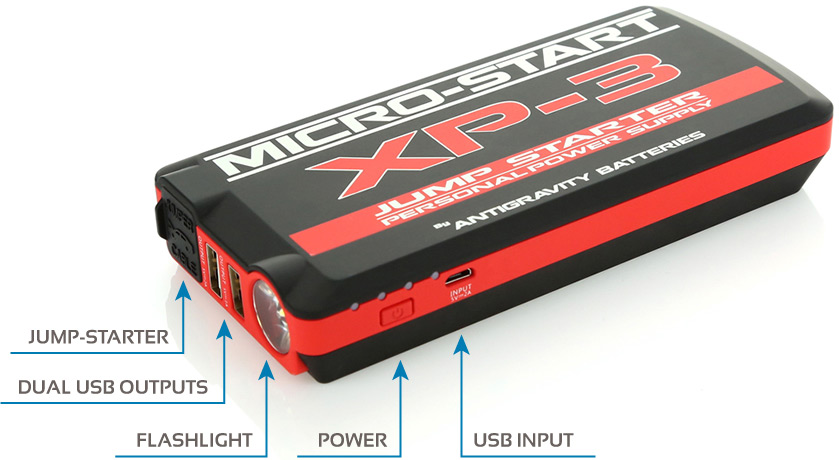 Jump-Start Port (not for charging)
5V USB Outputs (two)
LED Flashlight
Power Button
Capacity Lights (above button)
Micro-USB Input (to recharge XP3)
The XP-3 Micro-Start power supply is extremely lightweight and compact making it easy to take everywhere. So small it fits in your hand yet so powerful it can jump-start Motorcycles, Powersports Vehicles, even V8 Trucks! Start vehicles with gas engine sizes up to 5.7L V8 (not intended for large V-Twin motors).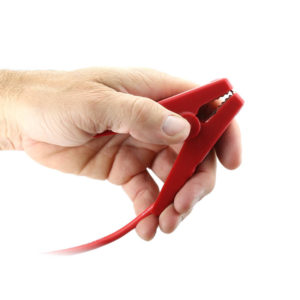 Intelligent Jump-Start Clamps feature multiple Safety Protections built-in. They prevent reverse polarity connection, over-charge, over-discharge, short-circuit and back-charge. Safely start cars, trucks, motorcycles, ATVs, UTVs, snowmobiles, other powersports vehicles, boats and other watercraft (not intended for large V-twin motorcycles).
Whether you are riding, driving, camping or traveling, be confident you can start your vehicle, make that important call, check work on your tablet and top off a charge. The multi-function XP-3 battery pack can charge a variety of electronics:
USB Devices: Smartphones, Tablets, Cameras, Handheld Games, Music Players, Bluetooth devices…
110-Lumen LED Flashlight built-in with 3 beam modes (steady, strobe, SOS beacon).
Lighted Capacity Indicator to see level of battery capacity remaining in Micro-Start.
Automatic Power-Off when not in use; you do not need to turn it off.
Built-in Protections for over-charge and over-discharge. Long battery life.
Rechargeable Lithium Battery. Recharge the XP-3 via Micro-USB port.
Top Quality Design, build-quality and safety features. UL listed battery cells.
The Micro-Start XP-3 is incredibly simple to use. It comes in a convenient Carry Case with EVERYTHING you need to Jump-Start your Vehicles and Charge your Electronics no matter where you are.
1 Micro-Start XP-3
1 Nylon Carry Case
1 set of Smart Mini Jumper Clamps

(AG-MSA-11TP)

1 universal 3-into-1 USB Cable
1 Instruction Manual
NOTES:
Carry Case is now smaller (photo shows previous case).
The XP-3 is only recharged via USB, so its kit no longer has the bulky wall and mobile chargers as it did originally. Charge USB devices or XP-3 itself with the same USB cable!
Multi-tip USB Cable is now a black 3-into-1 (not white 4-into-1). No longer has Apple 30-pin or Mini USB. Tips are Micro USB, Apple 8-pin, USB-C.

Micro-Start Comparison
Compare Micro-Start models. All have built-in LED Flashlight and come as complete Kit with Accessories.
(on mobile, swipe to see all specs)
| | | | | | | | |
| --- | --- | --- | --- | --- | --- | --- | --- |
| Model | Price | Power (Amps) | Jump-Start | Capacity | Ports | Size | Weight |
| XP-10-HD | $219.99 | 300A | 650A Peak | up to 7L Diesel + Gas | 18000 mAh | USB (x2), 12V, 19V | 9″ x 3″ x 1.25″ | 18 oz |
| XP-10 | $199.99 | 300A | 600A Peak | up to 7L Diesel + Gas | 18000 mAh | USB (x2), 12V, 19V | 9″ x 3″ x 1.25″ | 18 oz |
| XP-1 | $149.99 | 200A | 400A Peak | up to 6L V8 Gas | 12000 mAh | USB (x2), 12V, 19V | 6.75″ x 3.25″ x 1″ | 15.25 oz |
| XP-3 | $119.99 | 200A | 400A Peak | up to 5.7L V8 Gas | 8000 mAh | USB (x2) | 6″ x 3″ x 1″ | 10.5 oz |
DID YOU KNOW? The MICRO-START has its own Website!