Race Report by Monster Energy Kawasaki Team
Foothill Ranch, Calif. (June 4) – Round 12 of the Monster Energy® AMA Supercross, an FIM World Championship followed right on the heels of Sunday's return to racing after only two off days in Salt Lake City, Utah in effort to complete the 2020 season within only three weeks' time. Monster Energy Kawasaki rider Eli Tomac continued to show his points leading prowess after charging to a 450SX second-place finish and further extending his points lead to 13, while Monster Energy®/Pro Circuit/Kawasaki's Garrett Marchbanks worked for a fifth-place finish in the 250SX class.
After riding in qualifying, Adam Cianciarulo and the team made the decision to not race this round following his crash during Sunday's 450SX Main Event, however, Tomac remained consistent qualifying in third.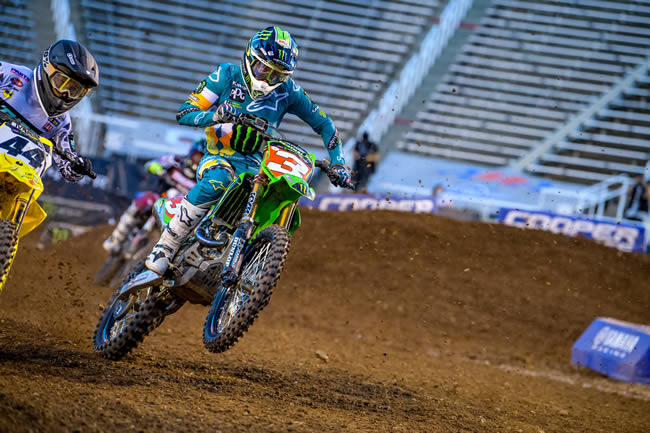 As the gate dropped on Heat 2, Tomac found himself outside of the top-5. Wasting no time, Tomac put his head down and began to charge the field, passing his competitors one by one. With only two laps remaining, Tomac made the pass for second where he would go on to cross the finish line.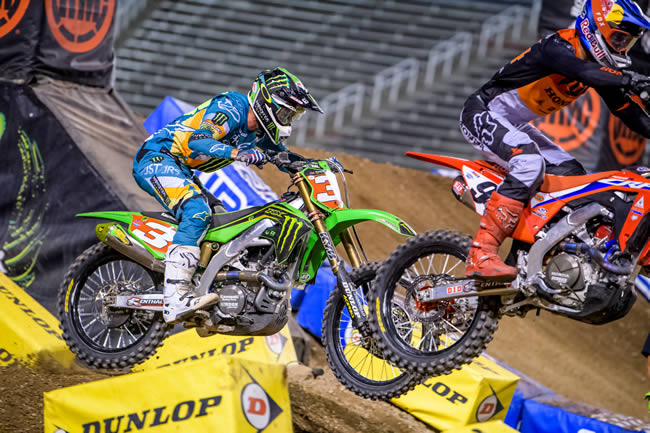 Tomac began the 450SX Main Event in ninth position after navigating through some first corner chaos. In typical Tomac fashion, he showed a burst of energy halfway into the race as he passed his closest title contender and continued on with the fastest lap speeds on the track. With two laps remaining, Tomac had caught up to the rear fender of the leader but was unable to make a pass, crossing the finish line in second.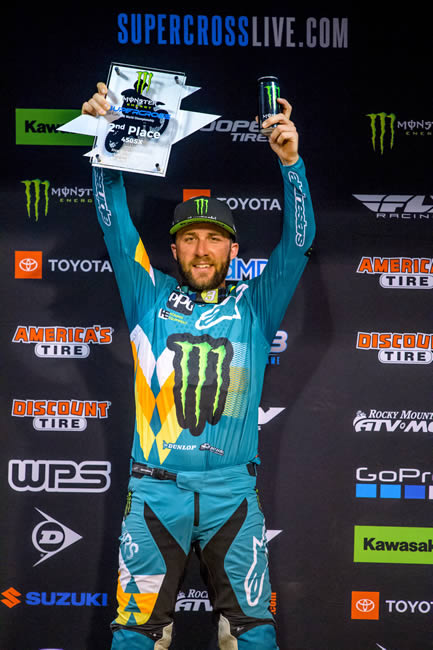 This marks the first race held on a Wednesday in the history of the sport, which was met with ideal weather and dirt that had more moisture than it did in the previous race.
"I was fighting with all I could tonight. I got pushed back off the start and began making my way towards the front after that. I got close with two laps to go but then I made a little mistake in the rhythm section so I couldn't quite make it happen, but overall it was a good night for us." – Eli Tomac
MONSTER ENERGY KAWASAKI
ANTIGRAVITY POWERED
Check out the AG-801 Lithium Battery powering Eli Tomac.