Race Report by Monster Energy Kawasaki
Foothill Ranch, Calif. (March 1, 2020) – Round 9 of Monster Energy AMA Supercross, an FIM World Championship made its way to Atlanta, Georgia, where Monster Energy® Kawasaki rider Eli Tomac overcame a difficult main event, putting together a strong ride to come from behind to finish fourth and hold onto the red-plate.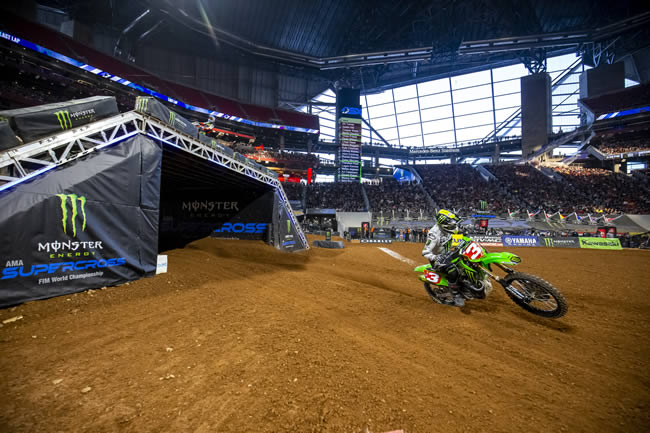 Eli Tomac scored his first pole position of the season by setting a blistering time of 50.294 seconds marking the eighth time in nine races a Kawasaki rider has earned the pole position in the 450SX class.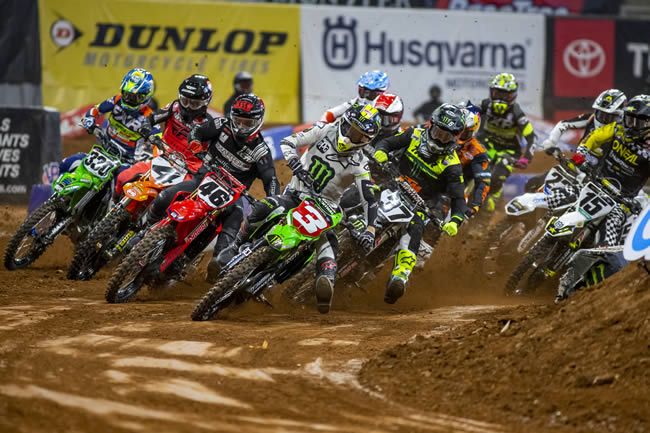 As the gate dropped on the second heat race of the night it was the No. 3 KX™450 rocketing out the gate, grabbing the holeshot and checking out from the competition. Tomac crossed the finish line with an impressive nine-second lead to take the heat race win.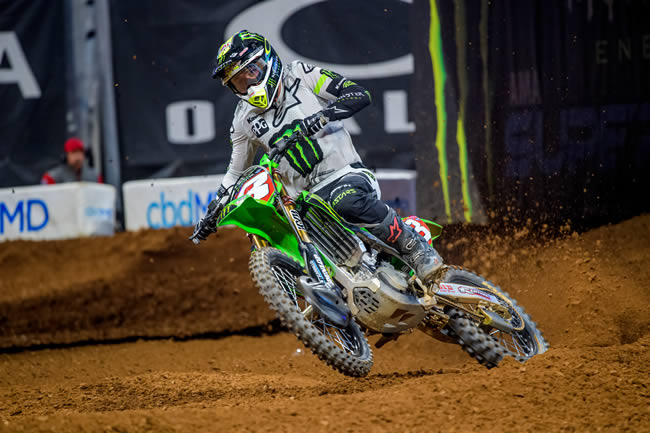 In the 450SX Main Event Tomac found himself buried off the start with his work cut out for him. As he began charging forward making his way up to seventh place, his progress was quickly halted when he and another rider came together, sending Tomac back to 15th place. Tomac began his charge forward, but a small mistake caused his bike to stall, a quick press of the electric start button on the handlebar minimized the damage and from there Tomac put together an amazing performance, riding from behind to narrowly miss the podium with a fourth-place finish. Tomac heads to Daytona tied in the lead for the 450SX championship point standings with Ken Roczen.
This weekend's race in Atlanta marked the first time in Monster Energy Supercross history that a race would be held on leap day.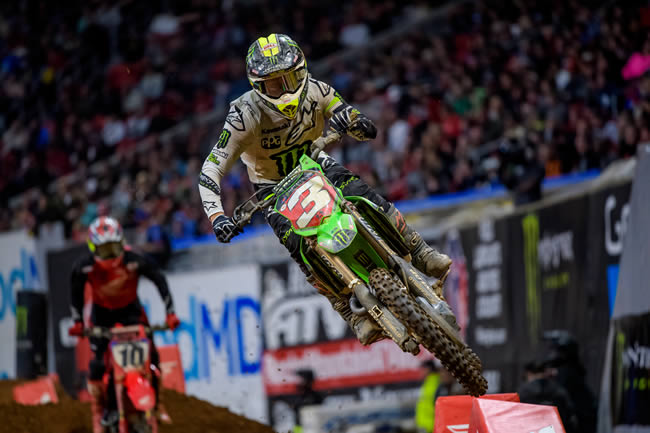 "The main event didn't go as planned, but the good news is we live to fight another day and line back up next weekend at one of my favorite tracks, Daytona. There are still positives to take away from today; we were fastest qualifier, won our heat race, and we never gave up in the main event, and battled hard all the way to the very end to salvage as many points as possible. We are going to put this race behind us and be ready to rock next week in Daytona!" – Eli Tomac
MONSTERY ENERGY KAWASAKI
ANTIGRAVITY POWERED
Check out the AG-801 Lithium Battery powering Eli Tomac.