Race Report by Walker Fowler Racing
SOCIETY HILL, SC (June 1, 2020) – In the days leading up to the Camp Coker Bullet GNCC race it looked as if it was going to be a mudder with the amount of rain that had come down in the Palmetto State. However, once the WFR team got to the venue and examined the course on Friday they realized that it wouldn't be a complete mudfest, with the exception of a few tricky spots that weren't drying up as quickly.
During the amateur race on Saturday, Walker reinspected the course and decided to stick with regular tires since it was shaping up to be better than expected. He got a great jump off the start once the green flag waved, but an unexpected slick spot snuck up on him and put him in a bad position heading into the first turn. With the XC1 Pro pack still close Walker knew this would be his best bet to jockey for a top position.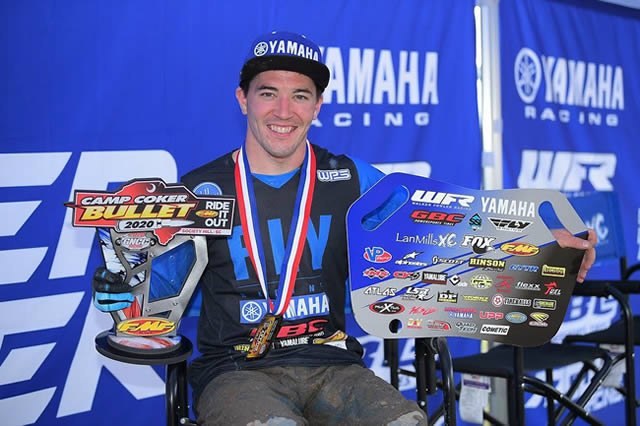 Unfortunately he made contact with another rider before they entered the woods and spun out – putting him in tenth place. With two hours to go, Walker kept his cool and decided to focus on making safe and smart decisions to move back through the field. The spots that Walker was concerned about because of the mud came to work in his benefit where one-by-one his competition took bad lines or found themselves stuck allowing him to move up.
By the completion of the first lap Walker was back where he is most commonly found – the lead position – and raced his way to his fifth-straight overall victory.
"My pit crew and team in the woods helped tremendously to help navigate the bad spots and let me know what my gap on the field was," said Walker. "As the races head north, I know the competition will be getting more comfortable with the terrain and picking up their pace, I just hope I can continue to stay one small notch ahead!"
Racing continues with the High Point GNCC on Saturday, June 13, in Mount Morris, Pennsylvania.
2020 WFR Standings:
Walker Fowler – 1st overall (57 point lead)
WALKER FOWLER
ANTIGRAVITY POWERED
Check out the AG-801 Lithium Battery powering Fowler's ride.