Race Report by Precision Concepts Racing
Photo credit: Mark Kariya
After a two-week break from racing, the 2021 AMA National Grand Prix Championship resumed with the second round in Taft, CA. The Honolulu Hills motocross track would be the usual focal point for the course. From there, the track headed out into the rolling hills for a flowing, undulating off-road loop. Narrow sections made overtaking tough, as there wasn't much to separate racers. So, per the norm, the start would be critical. All three of the Chaparral Motorsports, Precision Concepts, Kawasaki riders were looking to improve on their round-one results in Sunday's ninety-minute pro main event.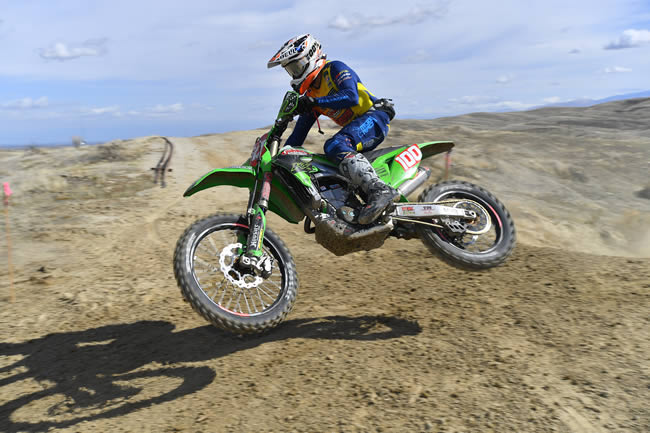 Zach Bell — 2nd place Pro
As the pack of Open Pro racers rocketed down the start straight, Zach was right up at the tip of the spear. Through the first corner, Bell jostled his way into second, right behind series leader Dante Oliveira. As the two accelerated down second lane, Zach pushed hard, scrubbing his way past Dante and into the point position. Unfortunately, a few corners later, the KX450X-ace would make a small mistake, which cost just enough time for Oliveira to take over the lead. From there, the two raced in tandem with Zach never more than a few seconds in arrears. Meanwhile, the two distanced themselves from the chasing pack, making it a two-horse race.
With overtaking difficult on a fast and narrow course, the PC Kawasaki team decided to send Zach a lap longer than the leader before pitting for fuel. The plan nearly worked to perfection, as Zach had pulled a couple seconds. However, a little confusion at the course merge saw Zach slowed by a track worker, which gave Dante just enough to get back into the lead. Subsequently, it was back to a nose-to-tail race. On the final lap, the Kawasaki pilot put in a fierce charge, but was slowed by a lapped rider just before the final motocross section. This allowed just enough breathing room for Dante to hold the lead, with Bell right on his heels in second.
"Overall, it was a solid day. I got off to a good start and made my way into the lead right away. Unfortunately, I just made a bobble and Dante got by. We pretty much battled it out from start-to-finish. It was a good day, but it was just hard to pass out there dealing with some dust and vision issues [Note: Zach's lens popped out from the impact of roost]. But I'm getting stronger, just healing up and getting my confidence back. I feel like we're going in the right direction again. So, we'll build on this and get ready for next weekend!"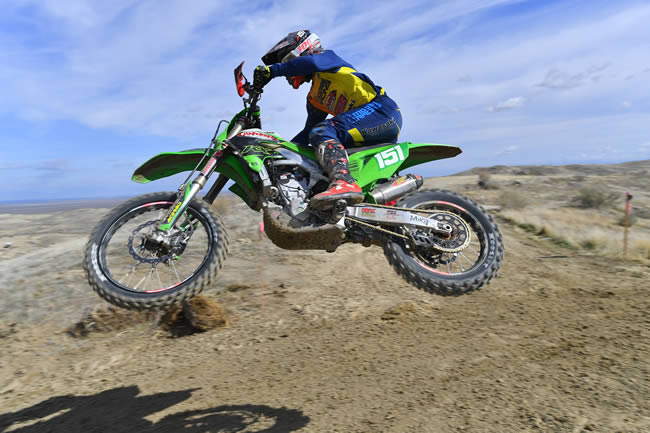 Clay Hengeveld – 9th place Pro 2
Clay's race got off to a less-than-stellar start when he wheelied off the line. He had to let off to get the front-end down, which allowed the field of Pro 250 riders to swallow him up. Compounding matters, Hengeveld took a rock to his chest while battling for position. The impact broke his water pack clip, so he had to fuss with the pack to dismount it and un-clip the hose from his hands-free. The time spent sorting himself out saw Clay drop outside the top-fifteen on the first lap. From there, the KX250X rider began to make progress forward through the pack. Hengeveld was able to push back to the edge of the top-ten before the pit stop rotations. He, then recovered a couple more spots to finish in ninth at the end of the ninety minutes.
"Honestly, not the greatest day. My start wasn't what I was hoping for; I got a bad jump and wheelied a bit. So, I shut off and was pretty far back. Then, my water pack broke off. So, I ended up throwing that the first lap. But, no crashes, so that's good. Ninth is less than what I'm capable of. But, I'm not going to beat myself up too much for it. I'm just going to keep working and get to where we need to be. I do believe in myself that I will get there. Overall, we're healthy and I'm looking forward to Peoria [WORCS] next weekend. That's my hometown race. So, I'm looking to have a good race there."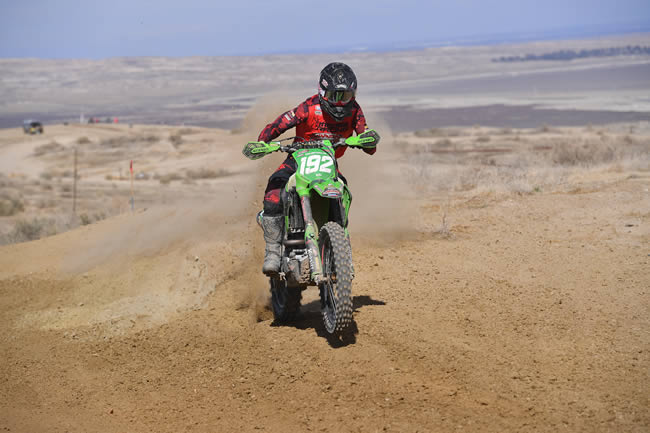 J.P. Alvarez – 22nd place Pro 2
J.P. started decently, inside the top-ten. However, as he began pushing forward to make progress through the pack, Alvarez noticed an issue with his front brake. The issue was enough for him to need to come into the pit on the first lap. After trying a few cures, the team finally decided they needed to change the entire brake system to get the problem sorted. After changing the system, the brake was back to normal. Unfortunately, the time spent in the pit had already put Alvarez a lap down to the entire field. Still, the KX250X-ace put his head down and he charged the entire length of the race. Even with such a large deficit, J.P. was able to make a few passes. However, it wasn't quite enough to get back up into the points, as Alvarez crossed the line in 22nd place.
"I had a pretty decent start. Then, half way through the first lap, I just started having front brake issues. I had to come in on the first lap to pit and get it fixed. From there the bike was perfect. The suspension worked good, the tires were good. It was just flawless. But, I was a lap down. So, I was just riding my own race and having fun out there."
Robby Bell, Team Manager
"All-in-all it was a pretty decent weekend at Taft. On the positive side, Zach was looking a few steps closer to his normal form. It was great to see him looking confident and aggressive. And the bike was solid, so I'm optimistic we're taking positive steps to showcase how good this KX450X is. It was a bummer the pit strategy didn't quite get Zach into the lead. I believe if he would have been able to get clean air, he would have been able to open up a little distance out front. But, having said that, I'm focused on the positives, and there are plenty.
"Clay had a solid ride, but he just needs to get up front. The Pro 250 class is deeply talented and it's tough to make up ground unless you're leaps and bounds better than everyone. He needs to get in that tow with the lead pace so he can elevate and build that confidence that he belongs up there. I know he has it, he just need to do it, so he can believe it more deeply. But, he's healthy and strong, and we're heading to his hometown race. So, I know he's focused on getting up front off the start so he can get to where he should be.
"I'm definitely bummed for J.P. It's been a rough start to the year with crashes and random issues. This one hurts a little more for me. He'd mentioned feeling something crop up on Saturday, but I was confident we had it solved. Unfortunately, we obviously didn't. Plus, we were less than prepared to fix it in the pit, which is why it took so long and put him a lap down. I appreciate his spirit to go out at pace with little to gain afterward. I'm just looking forward to him getting a good start at Peoria WORCS and having a clean ride so he can get back to the finishes he had last year."
PRECISION CONCEPTS RACING
ANTIGRAVITY POWERED
Check out the AG-801 Lithium Battery powering Precision Concepts.