Race Report by Star Racing Yamaha, powered by Antigravity Batteries
Budds Creek Motocross Park, MD, hosted the penultimate round of the Lucas Oil Pro Motocross Championship. Ferrandis, who is in contention for the championship, raced to gain as many points as he could. With two starts further back, he had his work cut out. He went 4-4, for fourth overall.
Justin Cooper finished sixth in the first moto and battled to the end in the second: claiming a second-place finish. His combined results gave him a spot on the podium, with a third overall.
Ty Masterpool ripped the holeshot in the first moto and held the lead for the first ten minutes. His results of seven-eleven gave him an eighth overall finish.
Oldenburg crashed in the first moto. He went sixteen-ten, to finish fourteenth overall. Nichols crashed hard in the first moto, which ended his racing for the day.
Qualifying
250 Practice 1 Group A:
Dylan Ferrandis: 19th, 2:06.567
Justin Cooper: 3rd, 2:04.231
Colt Nichols: 15th, 2:06.521
Ty Masterpool: 17th, 2:06.558
Mitchell Oldenburg: 8th, 2:05.200
250 Practice 2 Group A:
Dylan Ferrandis: 3rd, 2:03.215
Justin Cooper: 6th, 2:04.111
Colt Nichols: 17th, 2:06.181
Ty Masterpool: 15th, 2:05.783
Mitchell Oldenburg: 11th, 2:05.258
Overall Best Qualifying times:
Dylan Ferrandis was the third fastest qualifier, with a time of 2:03.215. Justin Cooper was sixth, with a best lap time of 2:03.111. Mitchell Oldenburg's fastest time of 2:05.200 placed him twelfth and Ty Masterpool's time of 2:05.783 placed him sixteenth. Colt Nichols qualified twentieth over all, with a time of 2:06.181.
Moto 1
The team's rookie, Ty Masterpool, took his second holeshot of the season. Justin Cooper started in sixth, Oldenburg was eleventh, Ferrandis was sixteenth and Nichols was seventeenth. Ferrandis got on the gas: he made up as many positions as he could, and broke his way into the top ten. Oldenburg crashed on the second lap and dropped to twenty-ninth. Masterpool held the lead for almost ten minutes before dropping back. Nichols crashed and was unable to finish the moto. Ferrandis caught up to Cooper. He was hot on his tail and darted past him when Cooper made a mistake. Ferrandis then found himself behind Masterpool. With three laps to go he made a pass and took over the fifth-place spot. He was not finished there, as he made one final pass and ended in fourth. Justin Cooper finished sixth, Ty Masterpool was seventh and Oldenburg took sixteenth.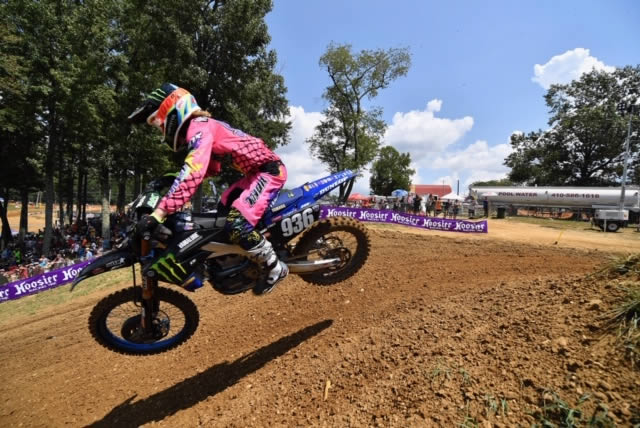 Moto 2
Oldenburg was second off the start and took the lead. Cooper started in fourth and straight off the bat hunted down third. Ferrandis was eleventh off the start and got taken down by a rider going the wrong way on the track. Masterpool started in fourteenth. Oldenburg dropped to third. Cooper caught his teammate Oldenburg and made a pass, claiming the third-place spot. Meanwhile, Ferrandis was fiercely coming through the field. He caught up to a group of riders and began chipping away at the competition one by one. His final pass gave him a fourth-place finish. Oldenburg finished tenth and Masterpool took eleventh. Nearing the end of the moto, Cooper turned up his pace. He caught up to second and made a pass; ending with a well-earned second-place.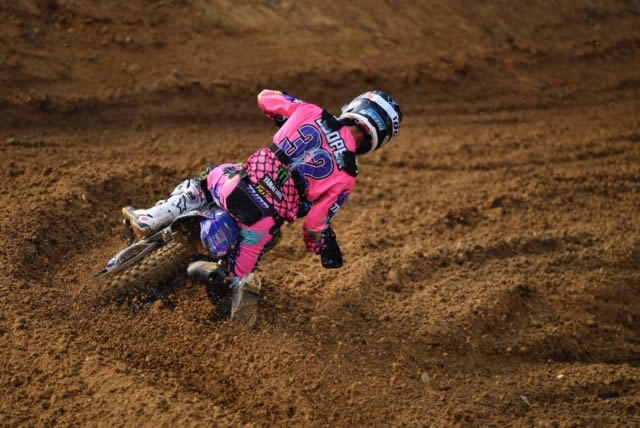 With one round to go, Ferrandis lies second in the rankings, and is thirty points off the lead. Justin Cooper remains third and Colt Nichols Drops a position – to fifth. Ty Masterpool holds down eleventh and Mitchell Oldenburg climbs from nineteenth, to seventeenth.
We will wrap up the 2019 Pro Motocross season at the Ironman Raceway, IN, on August 24, 2019.
---
STAR RACING YAMAHA
ANTIGRAVITY POWERED
Check out the AG-401 Lithium Battery powering the Star Racing team.