MICRO-START XP-1
NEW DESIGN!
Check out the NEWLY REDESIGNED Micro-Start XP-1 PPS (Personal Power Supply). Winner of the SEMA New Products Award in 2013, it was the first & ORIGINAL mini jump-starter and is considered the industry standard in its class. Now the XP1 has been fully redesigned to offer more features, more power, more functionality and as always we are producing the safest unit of its kind with the latest protections built into the unit and its clamps.
POWER
200 Amps / 400A Peak
PORTS
19V + 12V + Two USB 5V

Portable Power
The XP-1 is so small it fits in your Pocket, Purse or Backpack, yet so powerful it can start Motorcycles, Powersports Vehicles, even V8 Trucks up to 30X in a row! JUMP-START vehicles with gas engine sizes up to 6L V8. Amazingly the XP-1 can also POWER & CHARGE your Devices: Cell Phones, Cameras, Tablets and much more. It has FOUR on-board power ports: a 19V for Laptops, a 12V standard output for all 12V Accessories, and TWO USB outputs for powering 5V USB-charged devices.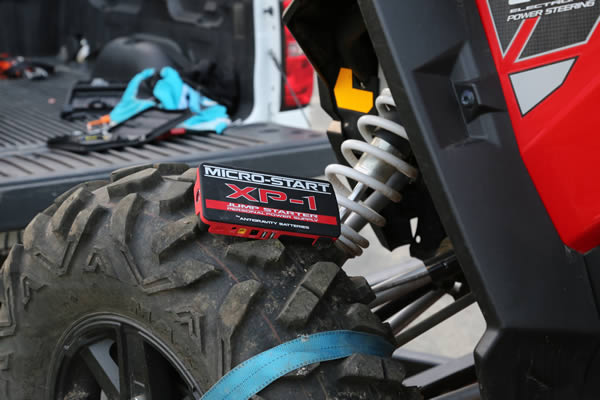 Multi-Purpose PPS
The XP-1 is extremely lightweight and compact (only 15.25 oz, 6.75 x 3.25 x 1 inches). It's small enough to easily take with you anywhere! Whether you are riding, driving, camping, boating or traveling, remain confident that you will be able to start your vehicle, make that important call, or get that last bit of work done. The Micro-Start PPS even has a 3-mode high-power 110-Lumen LED Flashlight built-in, with 2 flash patterns including a S.O.S. flashing beacon.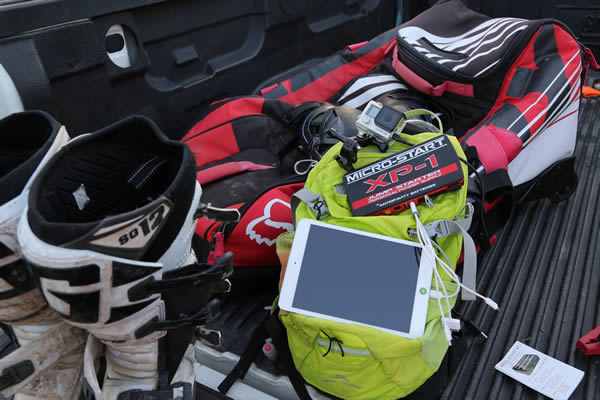 Complete Kit
The Micro-Start is incredibly SIMPLE to use. Take back-up power wherever you go. No need for an electrical outlet or power station; the XP-1 is a self-contained battery jumper pack & device charger. The XP-1 comes in a convenient Carry Case with EVERYTHING you need to Jump-Start your Vehicles and Charge your Electronics no matter where you are. The XP-1 can be recharged up to 1000 times for a long service life!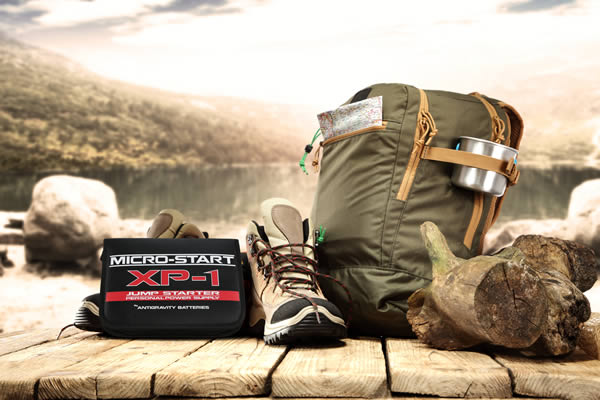 Vehicles with Gas Engine up to 6 Liter V8: Cars, Trucks, Motorcycles, ATVs, UTVs, Snowmobiles, other Powersports Vehicles, Boats, other Watercraft.
200 Amps starting current – 400A Peak!
19V Laptops (not compatible with Apple 16V laptops)
12V Devices: GPS, Mobile DVD Players, Small Fans, LED lighting and more.
USB Devices: all Cell / SmartPhones, Tablets, Kindles, iReaders, GoPros, other Cameras, PSPs / Handheld Games, MP3 / Music Players, Bluetooth devices, more!
12,000 mAh capacity.
LED Flashlight built-in with 3 beam modes (steady, strobe, SOS beacon).
Lighted capacity indicator. Press a button to see level of battery capacity remaining in the Micro-Start.
Automatic power-off when not in use; you do not need to turn it off.
Built-in protections for over-charge & over-discharge. Long battery life.
Rechargeable lithium battery. Recharge the XP-1 itself via wall outlet or vehicle cig lighter port.
Top Quality design, build-quality and safety features. UL listed battery cells.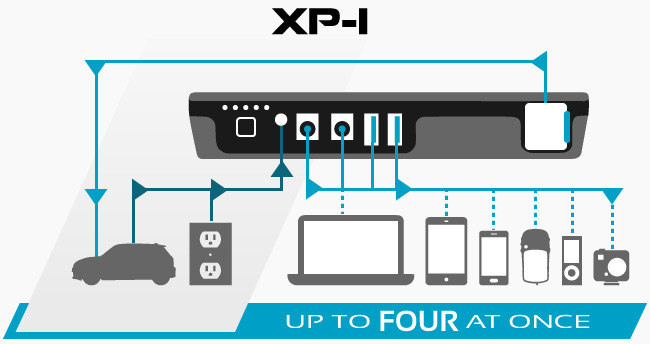 The Micro-Start XP-1 model comes with everything you need in a convenient carrying case.
1 Leatherette Carry Case that holds all parts neatly organized*.
1 Micro-Start XP-1 PPS.
1 Set of SMART Mini Jumper Clamps with Multiple Safety Protections built-in (thermal protections & multiple safety features: prevents reverse polarity connection, over-charge, over-discharge, short-circuit, back-charge).
1 universal DC Cable (black) for all 12V Accessories & use with…
8 detachable Laptop Tips (Fits many but not every Laptop charging port. Fits: Apple, Acer, Dell, HP, Asus, more).
1 universal 3-into-1 USB Cable (Tips: Micro USB, Apple 8-pin, USB-C).
1 Mobile Charger (plugs into cigarette lighter socket).
1 Home Charger (plugs into wall outlet).
1 Instruction Manual.
* Notes: internal organization of carry case differs from photo and is now upgraded, featuring mesh pockets to hold parts more securely. The multi-tip USB cable is now a 3-into-1; it no longer has Apple 30-pin or Mini USB; but now has USB-C.
ALL Micro-Starts have built-in LED Flashlight and come as complete Kit with Accessories.
Power: 300A | 600A Peak
Start gas engines + 7L Diesels!
Capacity: 18000 mAh
Ports: USB (x2), 12V, 19V
Size: 9″ x 3″ x 1.25″
Weight: 18 oz
Leatherette Carry Case
Carry Case Size: 10″ x 9.5″ x 1.5″
Power: 200A | 400A Peak
Start gas engines up to 6L V8
Capacity: 12000 mAh
Ports: USB (x2), 12V, 19V
Size: 6.75″ x 3.25″ x 1″
Weight: 15.25 oz
Leatherette Carry Case
Carry Case Size: 10″ x 7″ x 1.5″
Power: 200A | 400A Peak
Start gas engines up to 5.7L V8
Capacity: 8000 mAh
Ports: USB (x2)
Size: 6″ x 3″ x 1″
Weight: 10.5 oz
Nylon Carry Case
Carry Case Size: 8.75″ x 4.6″ x 3.6″
Power: 150A | 300A Peak
Start gas engines up to 4L V6
Capacity: 7500 mAh
Port: USB
Size: 5″ x 2.8″ x 0.875″
Weight: 9.75 oz
Nylon Carry Case
Carry Case Size: 7″ x 4″ x 2.5″
DID YOU KNOW? The MICRO-START has its own Website!